AH6LE Repeater and Remote Base System
The 146.920 repeater is back on the air from its new home atop Highland Butte (which is up above Beavercreek, Oregon) at the 1,500 level. Coverage seems to be great!
Great news! We have completed the installion at the top of Parrett Mountain! The UHF (442.675) repeater is now operational. As we expected coverage to be EXCELLENT!
IRLP NODE 3000

ECHOLINK NODE 303161
Parrett Mountain, Oregon (Newberg) 442.675 Out / 447.675 In PL 100.0 Hz (1Z)
Radio Type: Quintron QT-6700 UHF Repeater
Power Output: 90 watts continuous duty
Duplexer: Wacom WP-678 Bp/Br
Preamp: AngleLinear PHMET low noise
Controller: Arcom RC210
430 Link Radio: GE MastrII Exec, full-duplex
2 Meter Remote Base: Kenwood TM-271A, remotely programmable
Antennas: UHF - StationMaster 7.2 Db(i), VHF - Comet CA-ABC 23 7.8 Db(i)
Link Antenna: Sinclabs 5 element yagi
Located just west of Wilsonville, this repeater and remote base provides great coverage from Salem/Corvallis to the South, to the Cascades to the East to well past Vancouver to the North.
Butteville, OR IRLP/EchoIRLP computer and Hub Repeater
Power Output: 25 watts
Repeater: Kenwood TKR-850
Controller: Arcom RC210
Duplexer: Sinclair MR-356
Antenna: Comet P50
---
Highland Butte, OR (Beavercreek)
146.920 Out / 146.320 In 107.2 Hz (1B)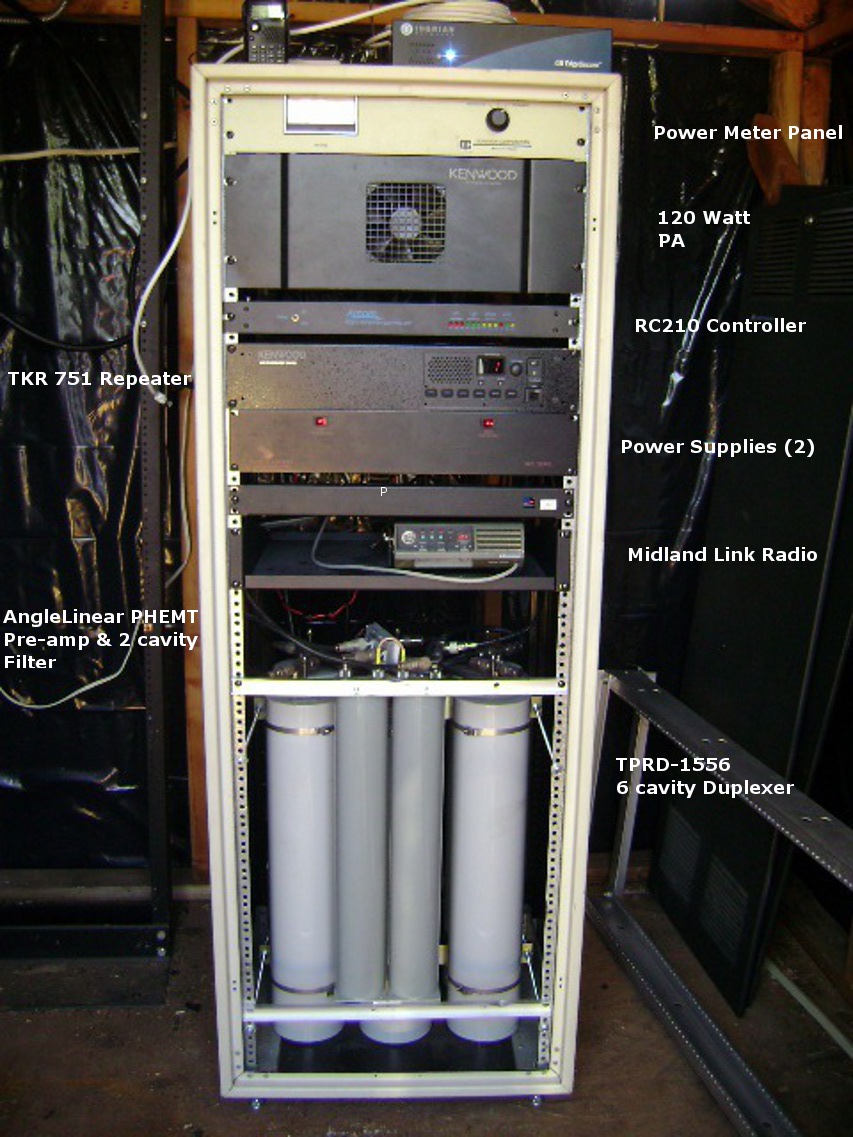 Radios: Kenwood TKR-750/TPL Amplifier
Power Output: 120 watts VHF
Duplexer: Telewave TPRD-1556 6 cavity Bp/Br
Preamp: VHF - AngleLinear PHMET with 2 cavity preselector/filter
Controller: Arcom RC210
430 Link Radio: pair Midland 70-524B
Antennas: VHF - Diamond F23 @ 167'
Link Antenna: Sinclab 5 element yagi
This repeater provides solid coverage from well north of Vancouver, WA, Hillsboro to Salem (and points south) and points East. Access to IRLP and the 2 Meter Remote Base is via the links and hub repeater
.